Below you will find our lists of suggestions, which are only a small part of the many quality establishments in the city.
Where to eat in Bordeaux…
If you do not wish to move away from our guest house, we have selected some good addresses in the Bastide area.
Cheap :
Middle price :
More expensive :
To combine business with pleasure, here are a few addresses close to places of interest in the historic centre of Bordeaux.
Cheap :
Middle price :
More expensive :
Where to drink…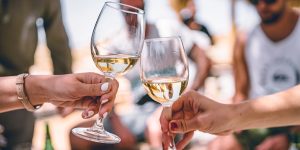 When you stay in Bordeaux, what could be more normal than to want to taste wine! Here are a few addresses where you can relax and enjoy a good glass of wine.
Ma Cave à Vin : Very close to the pont de pierre, on the Bastide side, this small establishment frequented by locals will please you for its conviviality. Wine cellar during the day, it becomes a wine bar in the evening at weekends.
Aux 4 coins du Vin : In the St Pierre district, discover wines from France and around the world in self-service in a cosy setting.
Le Bar à Vin du CIVB : This address near the Grand-Théâtre offers exclusive Bordeaux wines in a beautifully decorated building.
Tea rooms
Here are my favourite tea rooms in order, selected for their range of teas, their pastries, their atmosphere or for the first of these for both !
Any'teas
Octavies
Mona
Le comptoir des chats